Anniversary Party & Greensleeves Trunk Show
Saturday Aug. 20th: Anniversary Party & Greensleeves Spindle Co. Trunk Show



Join us for our 3rd year anniversary as a fiber arts studio!  Your support has helped make our dream to contribute to the fiber arts community a reality! Partake in fiber fun and join us for cake and refreshments ONE DAY ONLY. Everyone is welcome!
** Enter our FREE Raffle for Product & Gift Certificates **
** Sale Prices On All Products In Stock **
>Discounts on commercial yarns, floor model spinning wheels, books, fibers and more! New Product Lines In Store! Items marked 10% 20% 30% and 50% OFF FOR ONE DAY ONLY!
-

1:00 – 4:00 PM ** FIBER MEET UP **
Bring your wheels, and projects and hang out with us at the studio! There will be cake, snacks, yarn & needle felting supplies to use for free!
12:00 – 5:00 PM SHOP WITH OUR HANDMADE VENDORS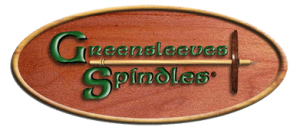 -

** GREENSLEEVES TRUNK SHOW **

Join us for a Bay Area exclusive event, meet Elizabeth Dailey of Greensleeves, the head maker of breathtakingly beautiful drop spindles made from the finest exotic hard woods available. For every spinner, from novice to expert. She will have a wide array of her handmade spindles, accessories and can give you advice on how to best use your Greensleeves products – ONE DAY ONLY
-

-
** SINCERE SHEEP **
nSincere Sheep of Northern California produces naturally dyed fiber and yarn. When Brooke founded this company she used only local wool processed locally into carded roving and yarn labeled with both animal and farm names. Since then the Sincere Sheep line has expanded to include other fibers and yarns sourced near and far but I still carry farm-specific items. http://sinceresheep.com/
New Item In The Store
The Schacht Sidekicks have arrived at the store! Check out a blog post about the wheel from our teen intern Tina Li HERE. They are available for purchase or rental today!
EVENTS & CLASSES: 
Click Class Titles For More Information
Monday August 1st Free Fiber Night 6-8PM
Join us for a free fiber night at our studio! Drop in any time and bring a fiber craft of your choice to work on (Felting, Spinning, Knitting, Crochet, etc..). We meet the First Monday of every month. Participation is free but please feel free to bring a drink or treat to share! Hope to see you there!
-

Learn the basics of knit and purl while making an adorable stuffed bunny and starting a simple scarf.  We will go over casting on, knitting, purling, and binding off, as well as avoiding some common mistakes. Class is two sessions.
Motifs are small pieces crocheted in the round, which can be attached to make embellishments, blankets, bags, and more. Take your crochet to the next level!  We'll go over the basics of crocheting in the round while making two different squares and a rounded flower motif.  You'll also learn how to read crochet stitch diagrams.
CLOSED On The Following Days