As I have explored this fun game available currently in the android, amazon, and nook markets I find that the following excerpt from the creators website, kirbers.com, to be so true; "This game is a miniature model of life. You need to plan ahead, see opportunities, and act on them quickly. You need to be able to survive long streaks of bad luck. And like in real life one wrong move can ruin all your hard work." Have a quick peek at the demo and then check out the creators website for other projects.
• Easy to learn, hard to master
• Requires quick thinking and good coordination
• Highly addictive
• No shooting, but lots of action
• Tests your survival skills
• Fun for the whole family
• Includes 5 levels of difficulty
Direct Links for Free Versions:

Direct Links for Pro Versions:

Have Fun and enjoy the game!
Hello Fiber Friends!
STITCHES WEST 2012 is the weekend after next! Are you READY?
Stitches West, is coming right up!  This is the country's largest fiber market and workshop series. It should not be missed by fiber lovers. You can find equipment, instruction and supplies for Knitting, Spinning, Weaving, Felting and More! We're sharing a booth with Kira K Designs where you'll get a chance to see Kira's newest patterns and knitting kits. We'll have hand dyed yarns, fibers, felting kits along with knitting notions.
NOTE: The shop will be CLOSED during this show.
STITCHES WEST
Santa Clara Convention Center
February 24th-26th
sup>2012
10-6 PM on Friday and Saturday
10-4 PM on Sunday.
Booth #1034-1036
Enter promotional code: WEST you will also be able to receive $2.00 off per ticket ordered.
SHOP TALK: PRODUCTS IN THE STUDIO
For the Needle Felter:
We currently have in
Stock Wool Buddy Needle Felting kits: Frog, Owl, Pig, Rabbit, and Panda! These are all extremely CUTE and a great fun way to be introduced to needle felting they come with everything you need to make the needle felted animal of choice. We have also re-stocked many of the Corriedale colors of wool roving that were sold out over the holidays.
For the Spinner:
We have in some wonderful new un-dyed top to play with which include Portuguese Merino, Wensleydale, a 75% BFL / 25% Silk, Cultivated Silk, and Adult Black Alpaca. We also re-stocked the Imperial Stock Ranch Sliver which is minimally processed, still has a bit of lovely lanolin in it, in 4oz Braided Bundles. We have also just received some new Hand Dyed Roving from Dicentra Designs in your choice of fibers a 75% BFL / 25% Silk, BFL and Polwarth.
For the Knitter:
We have also brought in some new colors of Cascade 220 wool yarns and restocked the wonderful Cascade Eco Duo merino/alpaca in Chicory, Hazelnut, and Moccasin.
n

For the Weaver:
I have re-stocked the Schacht Crickets and the 20" Ashford Knitters Loom w/Bag. We also have the floor stand as well for the knitters loom. Come and ask about in store savings when purchasing Weaving equipment!
CLASSES AND EVENTS
** DON'T FORGET: We do private lessons and classes on demand if there is enough interest. Call the shop and ask
about details!  **
Studio Hours
Mon 12-7 pm
Tues, Weds & Thurs – By Appointment only
Friday 12-7 pm
Saturday 12-5 pm
Sunday 12-5 pm
CLOSED On The Following Days
Feb. 24th-26th 2012
Thank you for supporting local businesses,
Urban Fauna Studio 1315 16th Avenue, San Francisco, CA 94122
Ravelry * Facebook * Flickr * Blog * Yelp * Twitter
Headphones you Say?
Recently a company called thinksound™ contacted Urban Fauna Studio asking if we'd be interested in selling their product. My first thoughts were: not really the right product for my shop as we are a fiber arts boutique. Then I was thinking well if enough people were interested in the product we might grab some
and have them around for the holiday season. Before making any kind of purchase out of my usual retail realm especially with any kind of electronics I would need to have some sort of first hand experience with the product. I contacted the company back, writing to Aaron Fournier CEO and Engineer, asking for the price-list and if at all possible to test a few pairs and to be able to see a difference between the two finishes that they offer.
We quickly received two pairs of headphones, a set of tso1's & a tso2+mic, each one representing the two finishes that the y have to offer. One in the silver cherry and one in the black chocolate. Over the weekend we've been testing the headphones in different situations and by listening to different types of music as
well as different formats. We listen to a wide range of of music from classical and jazz to hip-hop and metal. Formats that we tried were MP3 320Kbps, AIFF, ACC 320Kbps and the Apple Lossless.  We tried the mic out on the tso2+mic and it seems to work well both in respects to the person on the other end hearing us clearly as well as we were able to hear the other person.
Our Experience and the Differences Between the Two Models
To be fair we listened to the same set of songs in the same format on both pair of thinksound™ in-ear headphones as well as the supplied ear-buds by Apple with a new iPhone over a period of 4 days. Right off the bat the tso2+mic quickly became the favorite as they have a
very well rounded sound that seems to capture all the highs and mids as well as handle a pretty robust bass level even at the highest level of volume. If you really like the thump of your bass the tso1's handle bass in a very different manner, VERY RICH and FULL, but we felt that the highs were to soft unless you start playing with the EQ. Both of the thinksound™ models were MUCH more COMFORTABLE to wear than the Apple set of ear-buds. Apple ear-buds are way to tinny for my taste and never seem to stay in my ears.  Between the ts01's and the ts02+mic I felt that the ts01's were unnoticeable while wearing and the ts02+mic was only slightly noticeable while wearing them, mainly because I like to clip the mic down.
Both sets were packaged in eco friendly recycled cardboard with no wasteful plastics and come with a great unbleached cotton sack to stash the headphones in. The opening procedure was hassle free and the overall appearance is great. The wood for the body is stunning and beautiful far beyond what a camera can capture. The design is simple and we think very functional between the wood body for a true resonance and the in-ear sealed plug, four sizes to choose from, to also help cancel out noise. They also sport a PVC free cable with a full gold plated tip for excellent sound transfer from device to ear.
Price Point You Ask?
So MSRP on Headphones from thinksound™ range from $75.00 – $100.00 USD each set. Are they worth it? It depends on how much you value a great Eco-conciuos set of headphones. They sound great either model you choose, the tso1 if you really really like bass or if you like well rounded check out the ts02's, look unique and feel great. I would say the cost is spot on for a great value in the headphone realm especially when you factor in the companies slogan, "Clear sound with a clearer conscience is what we believe in.", which directly refers to the incredibly small eco footprint this fine quality crafted  product has. The guys over at <a
href="http://www.thinksound.com/who.php" target="_blank">thinksound™ have created a phenomenal product that has been years in the making. It seems that everywhere you look now the latest fad is to make it out of wood. Have you looked at you speakers at home though? The ones in your home entertainment center or the ones on your book shelf chances are they are made of wood and for a good reason, it sounds great. It would just make sense to make some headphones out of wood as well then right? Probably not as easy to design, but thinksound™ has mastered it.
Conclusion
The ts02's are a great headphone set! My absolute go to headphone set has been the Sony MDR V-600 Studio Monitors for a
number of years. The comfy over ear design along with the extra long cord on a single side have done me plenty good, but the sleek ts02 is definitely a very close second edging to first because of the portability, great sound they produce, and as these in-ears headphones stay in your ear one can even sleep comfortably with them in. A great upgrade from your standard run of the mill ear-buds or in-ear headphones. Great price for the awesome sound they produce. What I would like to see is a set of over the ear headphones with the beautiful wood body that can create the deep rich bass and also hold the mids and highs well.
So I ask you my readers, What do you think? Leave me comments about the product or ask any further questions about my experience with them. Should Urban Fauna Studio carry some of these headphones? They are electronics but they have a sustainability to them and a very small Eco-footprint. Leave your
comments, share and spread the news. I think that it is wonderful that there is a company out there making some pretty HIFI electronics that can be manufactured with a conscious effort to reduce the impact on our small planet. They even have a recycle program to close to loop. you can send in a pair of headphones, even broken, and receive a discount on a future purchase.

Saturday Aug. 20th: Anniversary Party & Greensleeves Spindle Co. Trunk Show



Join us for our 3rd year anniversary as a fiber arts studio!  Your support has helped make our dream to contribute to the fiber arts community a reality! Partake in fiber fun and join us for cake and refreshments ONE DAY ONLY. Everyone is welcome!
** Enter our FREE Raffle for Product & Gift Certificates **
** Sale Prices On All Products In Stock **
>Discounts on commercial yarns, floor model spinning wheels, books, fibers and more! New Product Lines In Store! Items marked 10% 20% 30% and 50% OFF FOR ONE DAY ONLY!
-

1:00 – 4:00 PM ** FIBER MEET UP **
Bring your wheels, and projects and hang out with us at the studio! There will be cake, snacks, yarn & needle felting supplies to use for free!
12:00 – 5:00 PM SHOP WITH OUR HANDMADE VENDORS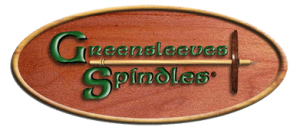 -

** GREENSLEEVES TRUNK SHOW **

Join us for a Bay Area exclusive event, meet Elizabeth Dailey of Greensleeves, the head maker of breathtakingly beautiful drop spindles made from the finest exotic hard woods available. For every spinner, from novice to expert. She will have a wide array of her handmade spindles, accessories and can give you advice on how to best use your Greensleeves products – ONE DAY ONLY
-

-
** SINCERE SHEEP **
nSincere Sheep of Northern California produces naturally dyed fiber and yarn. When Brooke founded this company she used only local wool processed locally into carded roving and yarn labeled with both animal and farm names. Since then the Sincere Sheep line has expanded to include other fibers and yarns sourced near and far but I still carry farm-specific items. http://sinceresheep.com/
New Item In The Store
The Schacht Sidekicks have arrived at the store! Check out a blog post about the wheel from our teen intern Tina Li HERE. They are available for purchase or rental today!
EVENTS & CLASSES: 
Click Class Titles For More Information
Monday August 1st Free Fiber Night 6-8PM
Join us for a free fiber night at our studio! Drop in any time and bring a fiber craft of your choice to work on (Felting, Spinning, Knitting, Crochet, etc..). We meet the First Monday of every month. Participation is free but please feel free to bring a drink or treat to share! Hope to see you there!
-

Learn the basics of knit and purl while making an adorable stuffed bunny and starting a simple scarf.  We will go over casting on, knitting, purling, and binding off, as well as avoiding some common mistakes. Class is two sessions.
Motifs are small pieces crocheted in the round, which can be attached to make embellishments, blankets, bags, and more. Take your crochet to the next level!  We'll go over the basics of crocheting in the round while making two different squares and a rounded flower motif.  You'll also learn how to read crochet stitch diagrams.
CLOSED On The Following Days
Spinning Yarn may look easy but once you've landed your hand on the wheel, it's hard! I spun yarn today and it didn't really turn out that great. Some of the strands of yarn turned into whirly Q's and some didn't spin into yarn at all, but as I practiced and practiced, it got better! Patience and practice is all you need to ace everything about Wheel Spinning! I started spinning yarn with the Schacht Sidekick and I loved it! It is a great wheel! Stop by Urban Fauna Studio and learn to spin yarn! It's really worth it, fun and exciting! Below are photos of the yarn I spun:
nPosted by Urban Fauna Studio Intern:: Tina Li
Posted by Urban Fauna Studio Intern:: Tina Li
We just received a new spinning wheel, the Sidekick! Many of you can't wait to get your hands on these fabulous wheels! The Sidekick is designed to fold easily and be a solid spinner! This Sidekick catches a lot of attention from critics because it is highly portable, you can take it everywhere you want. You can tell that the designers have had put a lot of time and care to produce this great spinning wheel. It is light-weight and decorative. You will definitely love the Sidekick once you set foot on it. Stop by Urban Fauna Studio to get a tour of the new Sidekick Spinner! Below are some of the snapshots of the Sidekick:
Sidekick2" src="http://blog.urbanfaunastudio.com/wp-content/uploads/2011/07/Sidekick2.jpg" alt="Sidekick2" width="640" height="218" />
Below is a video showing this wonderful spinning wheel in action. The video was created by the knitmoregirls when they visited the Schacht Spindle Company, Inc Factory in Boulder, Colorado.
Posted By Urban Fauna Studio Intern:: Tina Li
We have new items in stock and they are Interchangeable Knitting Needle Cables. These Cables allow you to change your needles while knitting without a hassle! Ever felt like changing the needles in the middle of a project but just couldn't because you had to finish knitting with the needle first?! Well, needn't to worry no more, Interchangeable Knitting Needle Cables are here to save you. We have 2 different kinds of Classic Circular Knitting Needles that go with the Interchangeable Knitting Needle Cables, Nickle Plated and Wood! Stop by Urban Fauna Studio sometime to check out the items! Below are some of the images of our items:
urbanfaunastudio.com/wp-content/uploads/2011/07/P1010019-300x225.jpg" alt="P1010019" width="300" height="225" />
By Urban Fauna Studio Intern: Tina Li
What is Yarn Bombing? Some believe Yarn Bombing started out by a few Texas knitters who had no idea what to do with the leftover and unfinished projects they created. The basic definition of Yarn Bombing is exactly what it looks like! You can wrap anything and almost everything around with leftover and or unfinished projects. Take a bike rack for example, if it's your property, then you can knit a cozy for it and then apply it onto the bike rack to make it more aesthetic. This movement still continues all around the world. There's even a International Yarn Bombing day, which was observed on June 11, 2011. Unlike graffiti, it doesn't damage to public or private property. Yarn Bombing is restricted in certain countries or public/private property unless given permission by the owner. Below is an extraordinary video of a Yarn Bombed Bull! Check it out!
I think that Yarn Bombing is the most interesting thing about Fiber Arts because you can express your creativity into the artwork you've done and you can also have fun! My experiences in Yarn Bombing was quite spectacular. I Yarn Bombed a bike rack cozy. It wasn't hard at all. I knitted throughout the whole process and just stitched it on when I was done with the body. It made the bike rack cozy artistic! Shown below is my latest creation, the Green Yarn Bombed Bike Rack Cozy!
http://blog.urbanfaunastudio.com/wp-content/uploads/2011/07/P1010016-225x300.jpg" alt="P1010016" width="297" height="300" />
Posted by Urban Fauna Studio Intern:: Tina Li
Second Annual Oakland Fiber & Textile Festival
July 10, 2011, at Splash Pad Park
The Oakland Fiber & Textile Festival, a free, family-friendly public event, returns to Splash Pad Park Sunday, July 10. Local artisans and craftspeople representing all the fiber arts will offer their wares; fiber enthusiasts will demonstrate crafts such as knitting, spinning, and weaving; and visitors can learn everything from handling and sorting raw fiber to making finished textile products.
Last year's inaugural festival was a hit, with attendance exceeding expectations despite blistering heat. Hundreds of visitors of all ages browsed the fiber offerings and watched demonstrations. Newbies who took needles in hand for the first time with $1 knitting instruction went home
with needles and yarn, as well as a brand-new skill.
This year there will be added focus on the make-and-take tables, where the fiber curious can try their hands (kids' hands welcome!) at crochet, needlepoint, felting, and more for a nominal fee. Here the skills handed down through the generations, the ability to create something with your hands, will be passed on to visitors.
"With the Fiber Fest we are trying to bridge the gap between fiber farms in the rural areas and the end users in the cities, between the raw products and the finished garments, and most of all between those who have skills and experience to share with those interested in learning," says festival co-founder Bente Petersen.
The festival is the brainchild of Petersen of Piedmont Yarn & Apparel and Lou Grantham of San Francisco Fiber, Oakland merchants committed to building community through public/private synergy. Working with other local merchants, the Oakland City Council, and the community at
large, Grantham helped transform Splash Pad Park from an abandoned, ivy-covered eyesore to a community gathering spot.
Visitors have the opportunity to directly support local artisans and merchants, and any profit made by Petersen and Grantham on the festival itself will be donated to the Friends of the Park.
Vendors will offer raw materials such as freshly shorn alpaca, sheep and goat fleeces, and brightly colored artisan-dyed roving and yarn; finished products such as hats, shawls, and sweaters; notions like handmade buttons; and accessories such as shawl pins for a great finishing touch. More than 30 vendors, guilds, and nonprofits will be participating—almost twice as many as last year.
An exciting addition this year will be the fabric-swapping booth. Still have that piece of Superman print for pajamas for your 4-year-old, who is now 17? Come trade it for something for yourself. "Where else can you try knitting, crochet, needlepoint, felting, weaving, spinning, or
quilting in one day? It's a win-win-win agreement," muses Petersen. "Vendors get exposure, the city gets some revenue, and the public is inspired to create, which benefits everyone."
Posted by Urban Fauna Studio Intern:: Tina Li

If you find a class that interests you, click the title and find out more about it!
Sunday (Two part course 6/19 & 6/26) Beginning Crochet
This is a very fun way to gain your crocheting skill, no previous experience needed! You'll learn the basic stitches while making a cute stuffed bunny and also start a crocheted scarf.  $55.00 pp for both classes.
Saturday (Two part course 6/25 & 7/2) Beginning Crochet Amigurumi
Amigurumi is the Japanese art of knitting or crocheting small stuffed animals. Learn the basics of Amigurumi by making a cute, quickly crocheted dragon or bird. Amigurumi toys are all the rage right now, and a great way to improve your crochet skills on a small project. $55.00 pp for both classes.
Sunday 6/26 Knitting 911: Fixing Mistakes
Dropping stitches and finding mystery holes in your knitting can be scary.  In this class we'll go over how to fix many common mistakes on the following row, as well as how to safely undo a few stitches and many rows when you have to. You'll learn how to recognize mistakes and many tips on how to avoid them in the first place. $28.00 pp
Tuesday 6/26-8/9 Kid Crafts Tuesdays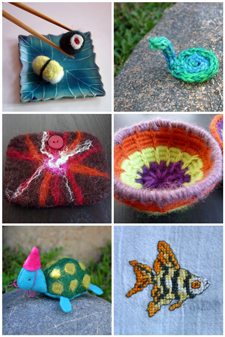 Join us for a weekly exploration into the world of fiber and handcrafts.
Great for boys and girls ages 8 and above. All materials are included in the class registration! Just show up with a snack/lunch and the desire to get your craft on! $50.00 pp per session
6/28  Needle Felting: sushi and cupcakes
7/5    Coiled Baskets
7/12  Embroidery & Cross Stitch
7/19  Wet felted coin purses
7/26  Hand Sewn Party Turtle
8/2    Knitted bracelets, necklaces and snakes
8/9    Rainbow Felt Coasters, Magnets and Mobiles
Saturday 7/2 Continental Knitting
Knitting continental-style is faster than American-style, especially with knit/purl or lace stitch patterns. Switching to
continental style knitting takes some patience, but in this class Kira will give you lots of tips to help you make the transition smoothly. $28.00 pp (materials not included)
Have a Happy 4th of July!
nMonday 7/11 FIBER CLUB NIGHT AT UFS
Drop in any time and bring a fiber craft of your choice to work on (Felting, Spinning, Knitting, Crochet, etc…)  FREE!!
A Full Materials List and More Details Available In The Studio or On Our Website
Register online at http://www.urbanfaunastudio.com/calendar.html
urbanfaunastudio.com l info@urbanfaunastudio.com l 415.664.1267
Posted by Urban Fauna Studio Intern::Tina Li